* Flowers and Faith Bookmark Collection *
Stitch this lovely collections of flowers with faithful verses.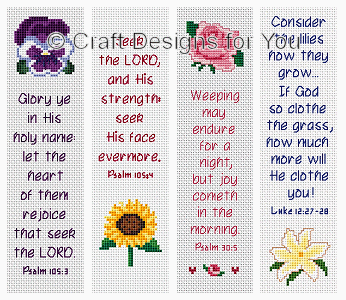 Stitch on prefinished 18-Count White Aida bookmarks: Charles Craft brand with Lacy edgings recommended.
Design sizes vary but all fit centered on 32 stitches wide by 119 stitches high.
Stitched with DMC Floss. Stitches used: Full Cross Stitches, Backstitches and French Knots.






View Cart
~ Bible Shop ~ Cross Stitch Shop ~


Designs and patterns Copyrighted 1999-2016 by Cherie Marie Leck and Craft Designs for You