Being a mom is one of the greatest joys of my life! My love of crochet started when I was a young child myself. Today I am thrilled to combine crochet with my love for children by creating beautiful sweaters for them to wear. What could be better than snuggling your child or grand-child in your lovingly hand-made crocheted sweater and seeing them delighted to be wearing your "made-with-love" creation?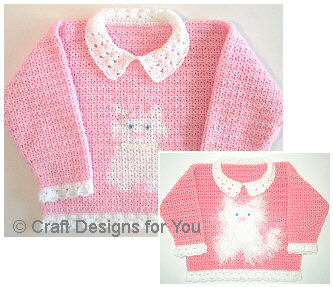 It's a pleasure to bring you my new personal line of crocheted children's sweaters.
With these darling patterns, you can create your own special crocheted sweaters for your precious ones! Made with soft baby weight yarns, these delightful sweaters are like a hug from you to your child! (I highly recommend Bernat brand "Baby Softee" for it's pure softness – once you try this yarn, you won't want to use anything else!)

I've created these patterns to be easy and fun to crochet with half double crochet stitches. The animal graphs are very simple and easy to follow – and the stitches work up quickly in a lovely pattern. The lacy collar, cuff and edgings for girls and simple collar and easy ribbing for boys add the perfect finishing touch to these unique sweaters. These sweaters can be crocheted with yarn alone, but it was great fun to add embellishments (such as bows and collars for the kittens and sequined cord for the whale's water spout) and to make the animals "furry" by crocheting them with Lion Brand's "Fun Fur". I'm sure your kids will enjoy the results, too! Check out the cording and ribbon section of your local craft store to find that extra special touch for your sweaters! (And if you do, please make sure to attach all embellishments securely to your sweaters by stitching them down with a thread and needle, especially for young children. Little hands will want to "play" with ribbons and beads, so if you attach them securely, they will be sure to stay put!)


Our current line of "Darling Crochet Sweaters" includes sizes for ages 1 to 6 years. Each pattern includes the full instructions and color graphs for ALL three sizes: 1-2 years, 3-4 years, 5-6 years. I'm planning on expanding this line to include larger sizes and patterns for "big sister, little sister" and "big brother, little brother" along with some "mother-daughter" sets as well.



I would love to hear your comments and suggestions about our newest line of Darling Crochet Sweaters:
What sizes do you make the most for children's sweaters (baby, young child, teens)? Are there any particular designs you would like to see (teddy bears, flowers, puppies, trucks)? Which sweater styles do your prefer (pullovers, cardigans, hoodies)? Please email me with your suggestions.

~ Happy Crocheting! ~ Cherie